Fixer Upper Property For Redesigned Floor Plan Renovation
To Make Informed Decisions
on the Viability of a
Fixer Upper BRR Add Value Property Renovation Project
Take A Look At
A Re-Designed Add Value
Floor Plan
Then Click To Buy For Your
Add Value Renovation Project
@ £35.00 per Floor
Bespoke Add Value Floor Plan
Design Fees
Unfurnished – (3 DA's + Eat/Sleep/Sit per Occupant as Space Indicator)
Up To 70 sq m (As per EPC Certificate)
Per Floor
2D £ 35
3D £ 45
Economy Furnishing £ 10
Above 70 SqM – Per 10 SqM or Part Thereof £ 10
Bespoke Design Consultation £ 1 per Minute, min £ 10
Technical Requirements
Dimensions: Depth/Width/Height – Metric/Imperial
Finish Colours: RGB or Hex Ref.
Material Spec: Online Order URL (Avoid End-Of-Range/Season/Special Event Sales)
Some Recommended Suppliers
Technical Links
In-House Pre-Prepared Floorplan Designs
2D £ 25
3D £ 35
Amendments
As Per Bespoke Per Floor Above
Payments via PayPal.

How To Order
Either Telephone Jane Collett (44) 7500 876690
To place your Order.
Or Click on the Order Button 
Download an Excel Order Form Zip File
(MPA-DD-Reports-Order-Form)
for Completion & Email Return.
In All Cases, except for Unreleased Legal Packs,
Due Diligence Reports are
generally
e-mailed within 24 hours.
EXAMPLE ADD VALUE BRR RENOVATION FLOOR PLAN
3-Bed Terraced House, Add Value Grnd Floor Bathroom Re-Location, BRR Renovation Floorplan.
Original Layout: G Floor – 2 Rooms with Windows leading to Kitchen through to Bathroom, Staircase rising to Half-Landing on Back Wall.
   1st Floor – 2 Double & 1 Single Bedroom off Landing.
Brief: Relocate Ground Floor Bathroom to 1st Floor without reducing Number of Bedrooms
Internal Footprint – 7m (23ft) * 4.4m (14'7")
© David Humphreys 2021
Notes:
This is the 1st Add Value Unmodernised Property Floorplan that I designed to relocate a Ground Floor Bathroom to the 1st Floor without sacrificing a Bedroom.
To achieve this Layout the Internal Dimensions excluding the Rear Extension, must be at least 7 m Long/Deep by 4.4 m Wide
When physically Speed-Viewing, these Measurements can be checked in seconds using a Laser Distance Meter leaving more time for other Advisable Due Diligence Checks.
Provided that you are always going to Refurb to the same Specification, Cookie-Cutter Strategy, and that the Property will need a standard Full Gut, Advisable Due Diligence applies to checking for costly Refurb Works that will significantly Reduce your Maximum Bid if they prove necessary such as Reroofing or Underfloor Insulation.
It may also find that the Length is a few inches short so you would need time to find the few inches you need to make the Floor Plan Design work. There is generally little you can do about finding extra Width Inches as in a Terraced House you are restricted by the Adjoining Properties.
Length/Depth Inches can possibly be found by recessing into thick Rear Stone Walls (bath) or fixing a Front Door to an internal Open Porch (entrance lobby).
Every centimetre in 70/85 m² Housing has value if you are to make best use of the space in your Property, so click here for some of the Extra Space Tips & Tricks that I have come up with over the years.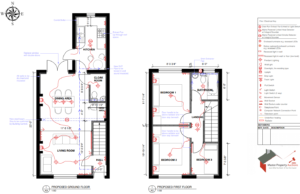 Master Property Auctions is a Membership Site at £9.95 pcm.
Click to Register for your Free 48-hour Trial Membership