UnModernised Auction Property
March 2021
Ideal For BRRRRS Strategies
All With EPC E, F or G Ratings
Note: EPC F & G Rated Homes Cannot Legally Be Let
Scroll Down To See More Property Details & Links Until List Ends
Listed Auctions, in Date Order, have at least 5 Qualifying Properties
Providing Investor Buyers with Choice and Increased Bidding Success
Click On Locations For Auction Particulars & Take A QuickLook For Expert Comments
Members 7-Minute Quick-Look Videos
Screen 1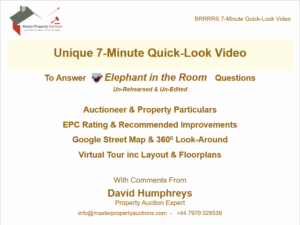 Quick-Look Videos feature Selected, UnModernised, EPC E-G Rated Auction Properties with BRRRRS Potential and our Expert Comments.
Each Video highlights Elephant In The Room Questions. 
Questions you would like to ask but just don't!
Find the predominantly Good Auction Properties,
Improve the Bad
Avoid the Ugly
And you will be Successful,
Buying Auction Properties for a Repeatable BRRRRS Strategy
Quick-Look Videos last about 7-Minutes, are Un-Rehearsed, Un-Edited and developed At-Speed, mimicking live auction conditions.
Successful Auction Investors need to develop At-Speed Skills where Everything needs to be done Quickly without Compromising Due Diligence.
The Good, Bad & Ugly Features are Highlighted in Gold, Charcoal & Magenta to make a Quick-Look easier.
What are You Looking For?
The Potential Bargain, the Unseen/Unrecognised Opportunity, the Extra Room, the Major Improvement.
Elephant in the Room Questions.
Why is the Property in an Auction?

What is the Problem?

What is Wrong?

Why is the Seller possibly prepared to accept up to 40% Below Market Value but typically is expecting to accept at least 20-25% BMV?
MPA starts by quickly identifying Qualifying Lots for you. Unmodernised, EPC E, F & G, Vacant Possession, No Adjacent Commercial Property, Has First Choice Potential.
MPA shows you how to efficiently carry out 15-Minute Viewings (Auctioneer Timings) to record all relevant Due Diligence (pre & post Covid).
MPA shows you how to keep all Pre-Auction Costs To the Minimum.
Affordable/Nil Cost Surveys, Legal Pack Checks, Layout Redesigns.
MPA shows you how to Quickly & Accurately complete Maximum Bid Calculations & 3-5 Year Projections
Pre-Calculated Maximum Bids Must Never Be Exceeded and Minimum Bid Increments can be As Low As £25
MPA shows you the Free Public Documents available for your Due Diligence Scrutiny
Auctioneer Listing Efficiency (EPC Rating, Dimensions, Virtual Tours)

Accuracy of Marketing Descriptions & Guide Hammer Ratio

EPC Rating, Improvements & Costs, Assessor Details, Footprint Square Metres,

Google Street Map, First Choice Neighbourhood, Traffic Calming, Compass Direction, Rear Access, Rights of Way

Virtual Tour, Layout & Floor plans, Relocate Ground Floor Bathroom, Open Plan, Passage Rooms,

Value Improved Refurb, Full Gut Safety,
Screen 2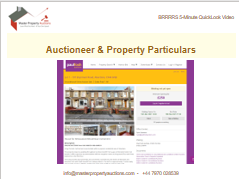 Information to Note:
Guide Price
Auction Day & Time
Number of People Watching
Combination of Virtual Tour & Slideshow
Including Floorplans
All Auctioneer Features/Descriptions to be Proven
Screen 3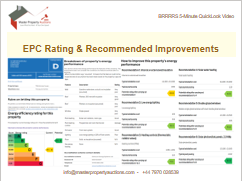 Information to Note:
EPC
Total Floor Area SqM
Includes Passageways & Wet Rooms, typically excluded from EA Details
Current & Potential,
Typically Potential includes Solar Features
Energy Performance
Refurbishment Aim – To Raise All Ratings to Very Good
Accreditation Contact
Assessor will have Physically Inspected the Property and, if Recent, can/will comment on works needed with prospect of a new EPC
Inspection.
Improve Energy Performance
Cost is Location Variable and may not Include Ancillary Costs, or the initial preparation & clearance, rewiring, redecorating,
Most are Tax Deductible Repairs for Buy to Let Investments
Screen 4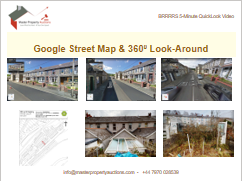 Information to Note:
Street View
Recorded Dates
Traffic Calming,
Possible Rat Run
Parking Restrictions
Double Yellow Lines, Residents Parking, Disabled (Blue Badge) Parking,
New Roofs,
If within¶ 10 Neighbouring Properties, Re-roof Probably Needed
Front Elevation,
Condition of Render, Pointing, Guttering, Facias & Chimneys
Commercial Premises,
Size Dependent but any within 50 M
Rear Access & Right of Way
Pedestrian or Vehicle see Title Plan Map
Public Transport
Proximity of Bus Stop
Potential for Electric Vehicle Charge
STPC is there sufficient Off-Road Frontage
Screen 5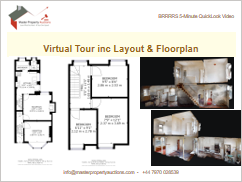 Floorplans & Layouts
Information to Note:
Create New Bedroom
Relocate Ground Floor Bathroom
Virtual Tour Room Dimensions
Internal Condition Indication
Room Doorways
Landlocked Bathrooms
Chimney Removal
Staircase Relocation & Turn
Floorplan to include all Switch & Point Fixing Positions
Detailed Floorplans will form part of the Refurb Specification & Costing. Check
Screen 6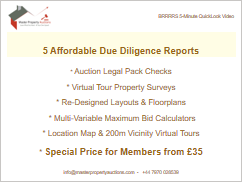 Information to Note:
Members Special Price of £35 per Report
Add £35 for Leasehold Legal Pack & £35 per Floorplan
48-Hour Email Delivery subject to Auctioneer Publication & Release
Master Property Auctions is a Membership Site at £9.95 pcm.
Click to Register for your Free 48-hour Trial Membership